When we talk about the Basque Country, it's impossible not to think of its infinite gastronomic richness. However, this wouldn't be the same without the spectacular wines that take the spotlight, belonging to the Rioja denomination of origin or the famous txakoli.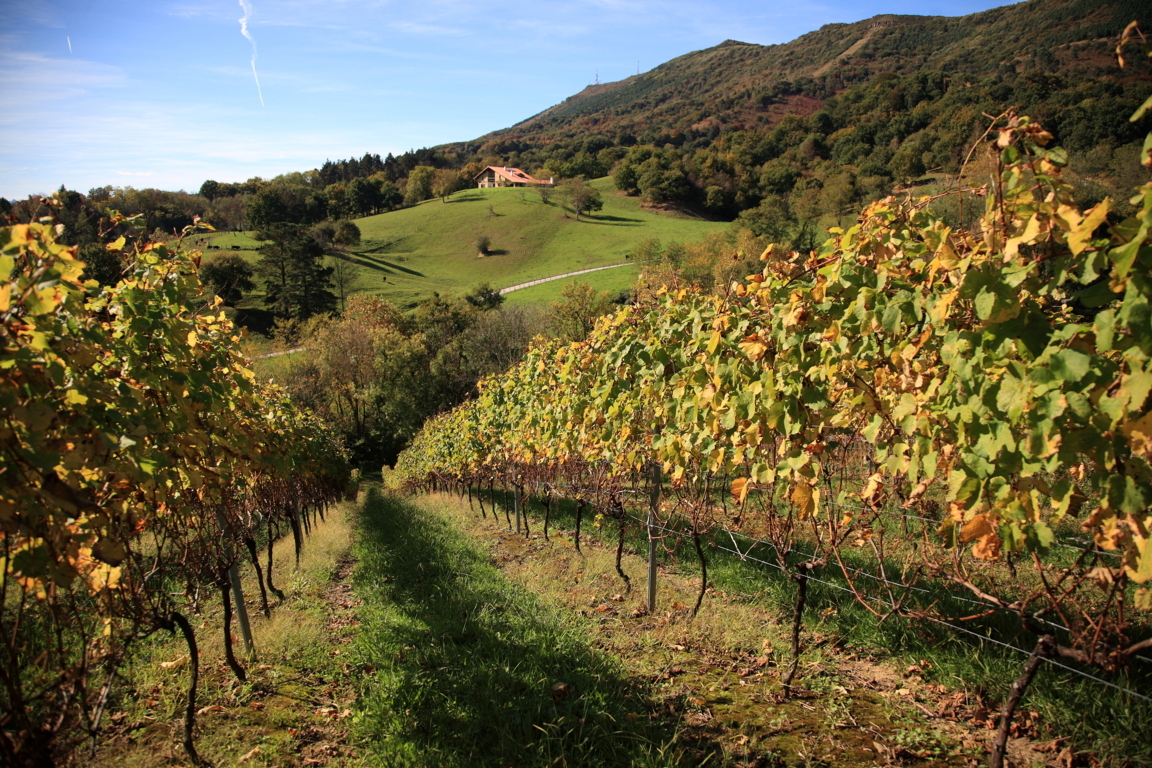 Txakoli vineyards in Basque Country 
A significant part of the history of our wines is linked to the Romans, Phoenicians, and Celtiberians, who cultivated and traded with the vine and its juice. From there, we inherited the tradition of grape harvesting, a custom deeply rooted in families and experienced in a special way in Rioja Alavesa.
The grape reaches the perfect level of ripeness in autumn, and the entire region comes together for its harvest to begin the production of the new vintage. It's a team effort, a tradition spanning thousands of years, passed down from generation to generation, maintaining the imprint of the past but with modern and current nuances.
This tradition is also celebrated with great enthusiasm in areas where the precious txakoli is produced, whose acidic touch is very characteristic of the native hondarribi zuri variety. Many of these vineyards are located on picturesque seaside slopes, where you can enjoy wine and gastronomic activities and experiences.
Wine has shaped the identity and history of many towns in the Basque Country. Discover the character of each one and explore the offerings it presents to wine tourism enthusiasts.
Wine-Related Festivals
Various festivals related to grape harvesting and wine culture are celebrated in the Basque Country. These festivities commemorate the most ancient viticultural customs and traditions. Due to recent health restrictions, some of these events haven't been held in the past two years. If you plan to attend, remember to seek updated information before your visit.
Here are some of the festivals celebrated in the Basque Country:
One of the most popular is the Rioja Alavesa Harvest Festival, a large event that began in 1994 in the town of Laguardia with the aim of introducing visitors to the life and customs of this wine-producing region. Each edition is hosted by a different locality in Rioja Alavesa. After grape stomping and tasting the first must, various activities are carried out, including aizkolaris tournaments (competitions where athletes use axes to cut tree trunks), a communal meal, live music, and even a fair where you can taste and purchase artisan products with the Eusko Label.
The Regulatory Council of the Bizkaiko Txakolina Designation of Origin celebrates the vintage in spring by naming well-known figures from the Basque Country as new ambassadors of txakoli. This event takes place each year in a different setting.
In Balmaseda, the Harvest Festival is celebrated every third Sunday of October, with txakoli as the protagonist. More than a dozen wineries with the Bizkaiko Txakolina denomination of origin participate. The festival involves tasting this delicious beverage while enjoying live music and children's workshops.
Saint Joseph's Day is a significant occasion in Bakio, as its three wineries with the Bizkaiko Txakolina designation of origin annually present their new harvest. Far from the traditional event, when normalcy returns, we'll be able to celebrate again with tastings and concerts.
Zarautz also holds its own Harvest Festival with an extensive program. Taking place in September, besides presenting the new vintage, guided visits to wineries, "pintxo-pote" (offering a snack and a drink together for a reasonable price) paired with txakoli, children's workshops, "kalejiras" (parades) with "txistularis" (individuals playing the "txistu," a traditional Basque musical instrument), Basque dances, txakoli tastings, and bertsolaris (popular improvisers of verses in Basque) performances are organized.
On Saint Anthony's Day, Getaria celebrates "Txakolin Eguna," where the new harvest is presented and tasted. The 17 wineries registered under the Getaria Txakoli Designation of Origin allow tasting of their new wine. Furthermore, in recent years, the "Mahasti Jauna" sculpture has been awarded to individuals or institutions related to the world of txakoli.
Wine-Related Plans and Activities
From a guided vineyard tour to a stellar wine pairing experience, the enotourism proposal in the Basque Country is unique and diverse. Here's a selection of plans to get to know our wines more intimately. Choose your favorite; it will be an unforgettable experience!
Have you heard of winetherapy? Wine isn't just for consumption; it's also used to improve our health. Rich in antioxidants, good for circulation, and perfect for hydrating the skin. Do you want to discover its properties firsthand? You can do so in Laguardia at the Wine Oil Spa.
Another way to deeply understand the world of viticulture is by immersing yourself in vineyards and tasting their wines. Bodegas Palacio offers you the opportunity to explore their vineyards in an off-road vehicle accompanied by a picnic, participate in an actual grape harvest, or become an oenologist for a day. Discover all their offerings!
For truly spectacular experiences, you can engage in enotourism activities in the beautiful Bay of Plentzia. Crusoe Treasure Winery offers activities such as underwater wine tastings, boat rides with wine and pintxos tastings, and customized visits. You can't miss it!
Zarautz's Talai Berri Winery also provides wine-related activities, including a guided tour with a tasting and live cooking. After visiting the winery and its vineyards, chef Joan Ferré prepares several dishes of his creation live, pairing them with different txakolis from the winery. A great idea if you're thinking of giving something special.
Basque Country vineyards
How about a guided visit in the middle of a nature reserve? You can do this at Berroja Winery, situated in the Urdaibai Biosphere Reserve. Enjoy a visit with lunch or dinner, txakoli tastings, artisan product tastings, a barbecue, or a "sarteneko" (a traditional dish presented in a pan, mainly consisting of potatoes, eggs, bacon, chorizo, and blood sausage). Choose the option you like the most!
A good alternative to discovering wine and its history is to embark on the Wine and Fish Route, an 8-stage journey that starts in Oyón and ends in Bermeo. A proposal for wine tourism and nature lovers. Discover the history of the vine at every step and don't forget to taste their wines.
As you can see, you have more than one opportunity to explore our wine culture, whether by tasting our wines at a fair, visiting one of our wineries, following in the footsteps of our ancestors, or pampering your skin at a spa. Which one are you excited about?
For more information, visit: https://tourism.euskadi.eus/en/wine-holiday/