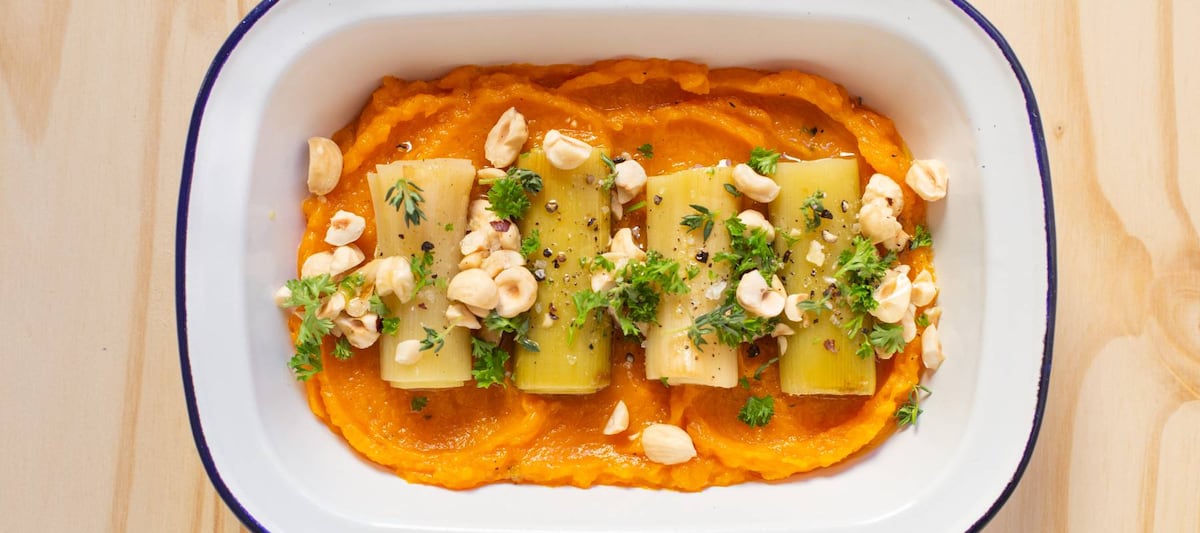 Leeks have a reputation for being tasteless and bland, but in this recipe we vindicate them and make the most of their flavour. As a luxury side dish, roasted pumpkin, which adds sweetness to the dish
Probably one of the best and most useful skills a person can acquire in the kitchen, whether at home or professionally, is the ability to elevate a simple ingredient to a higher level, making the most of its flavour, playing with its texture and presenting it in well-combined dishes.
Ingredients:
1 kg pumpkin
4 leeks
Extra virgin olive oil to cover the leeks
20 g butter
50 g peeled and toasted hazelnuts
Fresh thyme or other herbs
Fine salt
Salt flakes
Black pepper
Process:
1. Turn the oven on at 180 ºC. Remove the roots and the green part of the leeks (save for use in a stock, soup or any other preparation) so that you are left with just the white part. Remove the outer layer, wash very well and cut the white part into six or seven centimetre pieces.
2. Place the leeks in a saucepan and cover with extra virgin olive oil. Add a sprig of fresh thyme. Cook over a very low heat for 50 minutes or until they are completely tender.
3. Wash and cut the pumpkin into large chunks. Remove the seeds and place on a baking tray, skin side down. Add olive oil, salt and pepper and toss with clean hands to distribute evenly. Bake for 40 minutes or until the flesh is soft when pierced.
4. When the pumpkin is ready, peel carefully so as not to burn and place in a bowl. Mash with a fork, add the butter, salt and pepper.
5. Place the puree on a platter as a base. Remove the leeks from the oil, trying to drain them as much as possible, and place them on top of the puree.
6. Finish with fresh thyme, chopped hazelnuts, salt flakes and freshly ground black pepper.